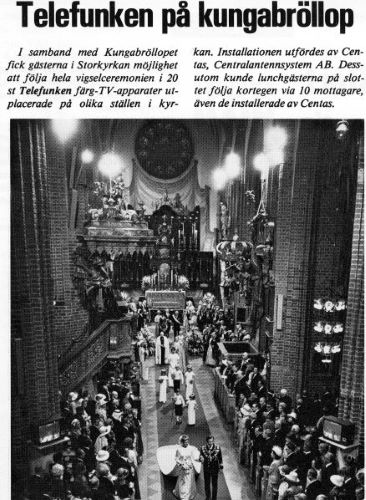 About us
Our journey began on June the 19th of 1976 when we delivered our first TV sets for the King and Queen's wedding in Storkyrkan in Stockholm.
Centas Konferens TV AB is one of Sweden's most traditional and oldest companies in meeting and event technology. With solid experience and passionate employees, we have for over forty years delivered AV technology to both small and large companies, trade fairs and events.
Over the years, we have accumulated a long experience and a solid knowledge of how we can improve the experience at your meetings and events. Our product range is constantly evolving and we have built our reputation on finding new, stimulating and engaging solutions that give you tomorrow's technology today.
From us you can rent everything from a simple LED screen or smaller camera to a large production that will fill the Avicci Arena, no job is too small or too big for us. If you know what you want, you can pick it up from our warehouse or if you need help all the way, one or more of our technicians will come out and connect the equipment and stay to run things smoothly during your event.
We offer installation, sales and rental of audio and video technology for meetings, conferences, trade fairs and events.
We will help you with a problem-free and smooth event, from the small meeting to a large event. With Centas, you can feel safe.
Centas is a company that specializes in audio and video for trade fairs, meetings and events. Our team of experienced technicians works with you from the ground up and knows what it takes to create a clear message that fits your budget, your space and your needs.